Instead of adding [UNSUBSCRIBE_URL] to the bottom of your email, you can turn it into a clickable link instead. Watch below to see how Tiffany does it in her email footers.
Unsubscribe URL not working? Be sure to choose "other" as your link option.
Option 1. Using WYSIWYG Editor
Option 2. Using Drag n' Drop Editor
Type the word "Unsubscribe" somewhere in your footer. Then highlight it and click the "link" icon in the toolbar.

Add the tag [UNSUBSCRIBE_URL] into the URL field and click "Save".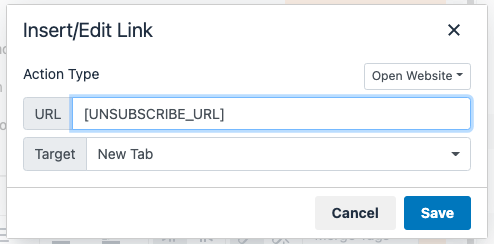 You can do the same thing with the [UPDATE_PROFILE_URL] tag.